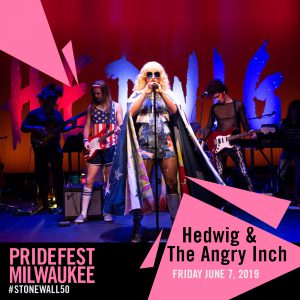 HEDWIG AND THE ANGRY INCH at Milwaukee Pridefest 2019
We are thrilled to announce that we are re-mounting our smash hit production of Hedwig and the Angry Inch, starring Brett Sweeney and Lydia Rose Eiche, for a one-night-only show at Milwaukee Pridefest.
The show is Friday, June 7 at the Pridefest Rainbow Stage.
More information available on the Milwaukee Pride website. We cannot wait for this incredible opportunity to present one of our most successful shows in front of what will be an amazing audience at one of Milwaukee's biggest celebrations of the year!
Stay tuned for our announcement for our 2019-2020 season, our landmark fifth season making art here in Milwaukee!