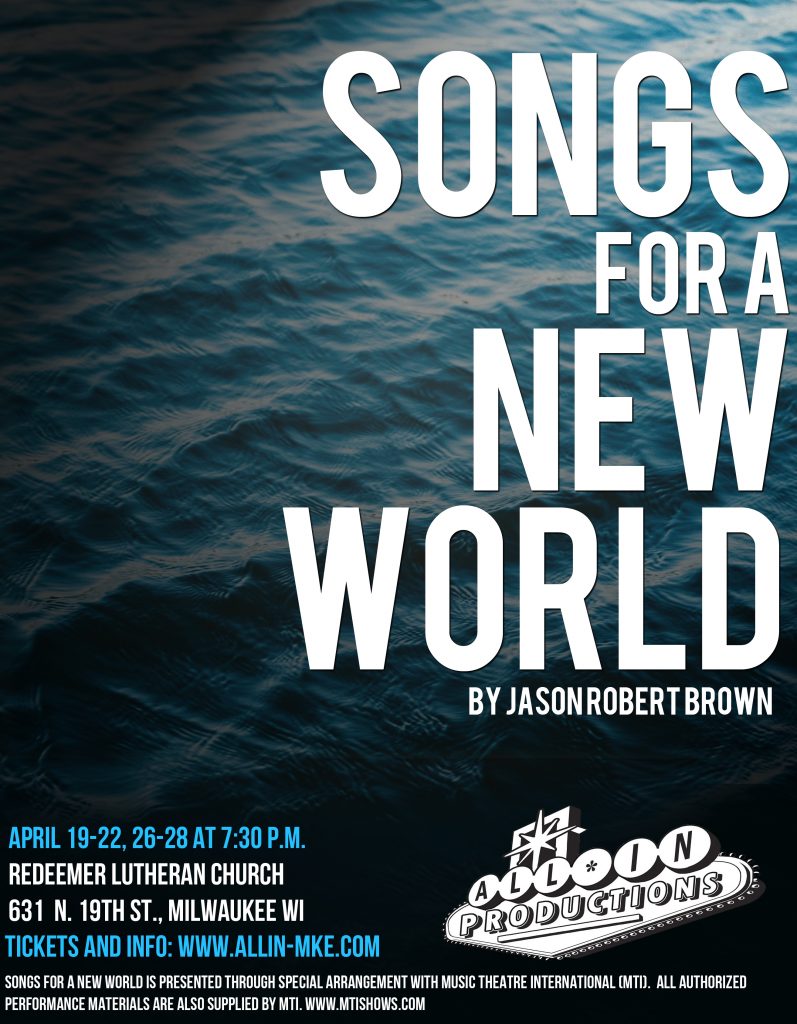 SONGS FOR A NEW WORLD
April 19-22, 26-28 at Redeemer Lutheran Church, 631 N. 19th St., 7:30 p.m. shows
GET TICKETS HERE!

"It's about one moment. It's about hitting the wall and having to make a choice… or take a stand… or turn around and go back. These are the stories and characters of today, the Songs for a New World. The first musical from Tony Award winner, Jason Robert Brown (Parade, Bridges of Madison County), this moving collection of powerful songs examines life, love and the choices that we make.
Brown transports his audience from the deck of a 1492 Spanish sailing ship to a ledge, 57 stories above Fifth Avenue, to meet a startling array of characters that range from a young man who has determined that basketball is his ticket out of the ghetto to a woman whose dream of marrying rich nabs her the man of her dreams… and a soulless marriage." – Description from Music Theater International
CAST:
Woman 1 – Jamie Mercado
Woman 2 – Laura McDonald
Man 1 – Indalecio de Jesus Valentin
Man 2 – Patrick Jones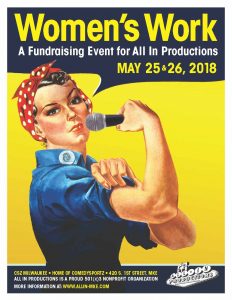 Annual AIP Fundraiser: WOMEN'S WORK
Friday, May 25 and Saturday, May 26 at Comedy Sportz Garage, 420 S. 1st St., 7:30 p.m.
GET TICKETS HERE!
Join us for our annual fundraiser event at Comedy Sportz, WOMEN'S WORK! Two years ago, we presented Manhood, which offered a pair of one acts and a variety of songs centered on the theme of manhood and masculinity. This year, we are focusing on the idea of womanhood. We'll have scenes and songs from men and women alike that focus on all aspects of how we define womanhood. Joining us will be performers from AIP's previous shows, as well as other talented friends of ours from around Milwaukee's theatrical community.
In addition to the performances, we will, as always, have a silent auction packed with all kinds of awesome prizes (a completely different selection each night!) and other options to support our organization. All donations are tax deductible.
As in previous years, you will be able to purchase individual tickets or a table of eight for a discount, which also comes with a bottle of champagne.
Looking forward to seeing you at this annual favorite over Memorial Day weekend!