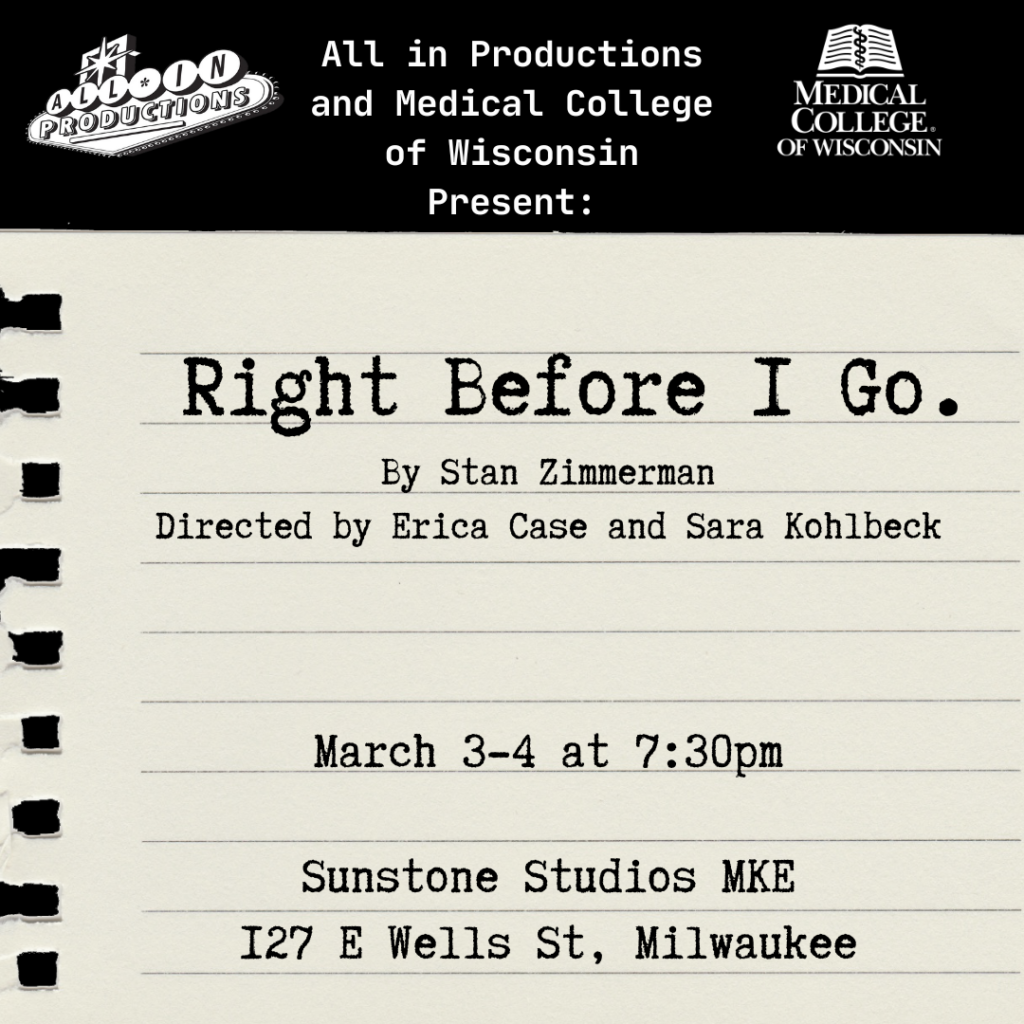 Content Warning: s**cide
Recommended for ages 18+ or, if younger, accompanied by a supportive adult.
When Stan Zimmerman's friend died by suicide, he wanted to understand why. Unable to read his friend's suicide note, he began to read suicide notes he found online. Notes from celebrities, veterans, members of the LGBTQ+ community – and people who survived their suicide attempt.
Zimmerman, primarily known for his writing on comedies Roseanne, Gilmore Girls, and The Golden Girls, brings these letters to life in Right Before I Go. First performed at the Hollywood Fringe Festival in 2015, Right Before I Go has now been performed across the country, offering hope and working to eliminate the stigma surrounding depression.
Directed by Erica Case & Sara Kohlbeck
Featuring
Chris Goode
Amanda Gregas
Sarah Hansen
Rachel Jones
Aaron Kohlbeck
Sara Kohlbeck
Gena Orlando
Julia Rowley
Mia Smith
Carol Tsao
Performances:
Friday March 3 – Saturday March 4, 2023 at 7:30pm
Location:
Sunstone Studios MKE
127 E Wells St, Milwaukee, WI 53202
Tickets: Suggested Donation of $15
Talkbacks will be held after each performance
Friday Talkback: Sara Kohlbeck and Gena Orlando
Saturday Talkback: Gena Orlando, Erica Steib, and Vaynesia Kendrick
Donations will go to the American Foundation for Suicide Prevention (WI Chapter).
---
Content warning: This production of Right Before I Go contains sensitive content related to suicide and suicide attempt. This content may cause distress to some. Please consider this information before attending a performance of this play.
If you are concerned about yourself or a loved one, help is available free through the Wisconsin Suicide and Crisis Lifeline by dialing 988. You can also receive free, confidential text support from the Hopeline by texting the word TALK to 741-741.
Right Before I Go is presented through special arrangement with and all authorized performance materials are supplied by TRW PLAYS, 1180 Avenue of the Americas, Suite 640, New York, NY 10036. www.trwplays.com