What a year!
Our deepest thanks to everyone who supported us in our third season, "Let's Talk." All three of our shows, Circle Mirror Transformation, Next to Normal and Constellations were big successes in large part because of our supporters for not just buying tickets, but spreading the word to their friends and family. We can't wait to continue building on that success and keep the momentum going in year four.
Our 2018 season: "Discoveries"
For our 2018 season, we have selected two musicals and a play that deal with the theme of "discovery," whether it is characters making important self discoveries or discovering things about others or their surroundings. This is a year of discovery for All In Productions as well, as we explore nontraditional theater spaces, try new types of shows and continue to discover where our place is in Milwaukee's artistic community.
We hope you will join us for the ride, and support us in our 2018 season!
Coming Soon

April 19-22, 26-28: Our next production is SONGS FOR A NEW WORLD, taking place at Redeemer Lutheran Church. More information available here.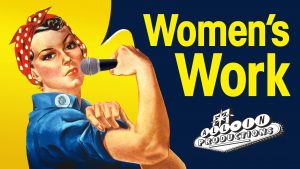 May 25 & 26: We are excited to return to Comedy Sportz for our annual fundraiser, this year entitled Women's Work! More information available here.
Thank you to our 2018 season sponsors!
A big thanks to our corporate sponsors who are helping to make this season possible.