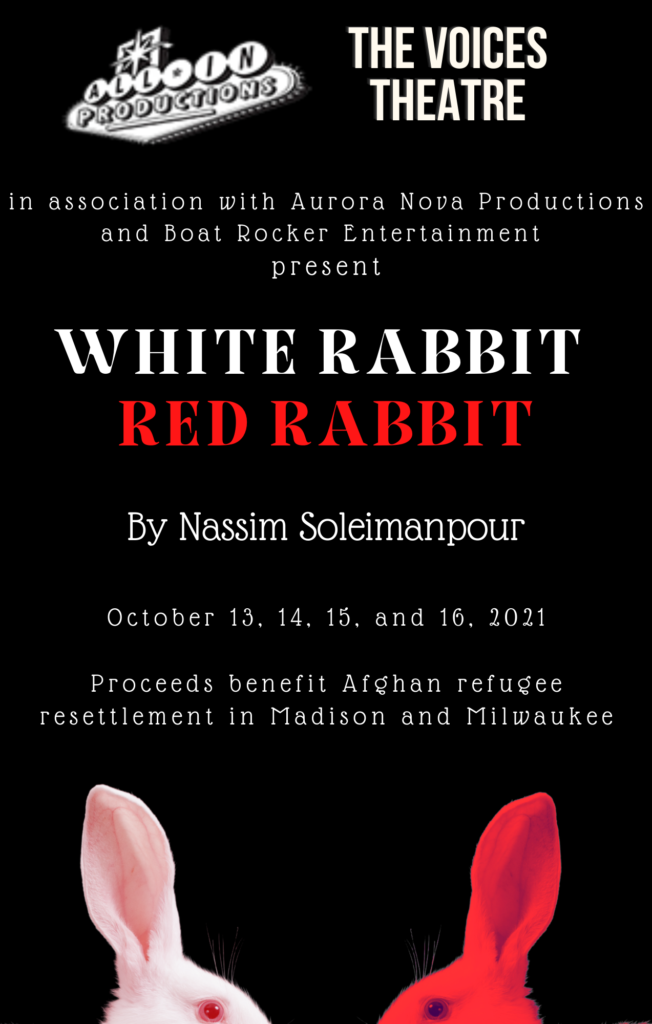 White Rabbit Red Rabbit was originally produced by Volcano Theatre in association with Necessary Angel and Wolfgang Hoffmann.
Dramaturgy by Daniel Brooks and Ross Manson
A WORD FROM…
All In Productions
Art uplifts. But art also reflects society, and sometimes that's not particularly uplifting.
We watched in horror with the rest of the world as the Afghan government fell to the Taliban, as tens of thousands of refugees were displaced, and millions more found their lives and freedoms endangered. When we had the opportunity to partner with Voices Theatre to present White Rabbit Red Rabbit, it seemed like a natural outlet for the collective helplessness a lot of us were feeling about the situation.
All proceeds from these performances are being donated to organizations that both assisted the refugees and who are run by groups of people who know the pain and struggle of oppression.
If this is your first interaction with All In Productions, we want you to know that this is who are at our core. We support local talent, care about our community, and think that all organizations have a social responsibility. We reflect those values whenever and wherever we can. We have a full season, so join us again. Like our Facebook page to keep up with future productions.
The Voices Theatre Project (Voices Theatre)
The Voices Theatre Project is an unusual endeavor. The company doesn't do a traditional season. We step up when there is a need, and a play to tell the story of that need. The mission is to amplify voices that have been unjustly silenced. To that end, all three plays in the company's history have used words directly from real people and been based on real experiences. All proceeds are donated to charities in our community who work to dismantle injustices.
The company was founded in 2017, with a performance of Jessica Blank and Erik Jensen's The Exonerated, telling the story of the wrongfully-convicted. Voices Theatre did four performances featuring talkbacks with experts, including Dean Strang of "Making a Murderer" fame. That play raised money for The Wisconsin Innocence Project at the UW-Madison Law School. In 2020, at the beginning of the pandemic, Voices revived again to produce The P***y Grabber Plays, a series of short plays about survivors of Donald Trump's sexual harassment offenses and assaults. The production was the first Zoom show in the city, performed live from 20 different locations during the peak of the lockdown, and raised money for Madison's Rape Crisis Center.
Upon the withdrawal of troops from Afghanistan, and upon learning that many Afghan refugees would be resettled in Wisconsin, I knew it was time for this project to come to life again. It was easy to pick White Rabbit, Red Rabbit, as I've always been curious about it. While it does not deal directly with the Afghanistan refugee crisis, it is by a playwright who knows of the oppression of SWANA (Southwest Asian/North African) people, and uses powerful metaphors that ask everyone who touches it to examine themselves and their humanity in deeply powerful ways. All In Productions is a company I've long admired, so we partnered up in order to raise funds in Wisconsin's two biggest–and most oppressed–cities. (Check them out-they've got an amazing season planned!)
By donating tonight, you are supporting an essential cause. But by attending our show, you're going even further. You're acknowledging that art is powerful; that it speaks, lives, breathes, and changes people. And that this power can help us to empathize and galvanize us to seek justice. "Now more than ever" has become a cliche, but I can think of no better way to say it: Now, more than ever, humans need art. And humans need to hear the voices of other humans, and let them sink into their souls.
Many thanks for your participation. Enjoy the experiment!
-Meghan Randolph
Founder/Artistic Director, The Voices Theatre Project
ABOUT THE ORGANIZATIONS
Milwaukee Muslim Women's Coalition
The Milwaukee Muslim Women's Coalition is a local advocacy, education and outreach organization that has existed for 25 years. The MMWC is a 501c3 and the only independent Muslim women's organization in Wisconsin, it advocates for women and girls through it's leadership and educational programs as well as through Our Peaceful Home, a culturally informed family strengthening and domestic violence project. The MMWC runs a specialty lending library, publishes the Wisconsin Muslim Journal, and runs a speakers bureau that has given thousands of presentations across Wisconsin during the past 25 years. The MMWC also runs the Milwaukee Muslim Film Festival in collaboration with Milwaukee Film, showcasing films from around the world. This year the festival will run October 21-24th, in person at the Oriental Theater.
The MMWC has been incredibly active in bringing culturally appropriate clothing and needed supplies to the Afghan evacuees in Fort McCoy. They are preparing to send their 5th truckload of new items, bought in bulk and at discounted prices. 100% of the donations that come in for the Afghan evacuees are spent directly on needed items, no funds are used for overhead costs. A delegation from the MMWC were invited to join Congresswomen Gwen Moore and Ilhan Omar (Minnesota) on a tour and debriefing of Fort McCoy a few weeks ago. The first civilian delegation to do so. They had the opportunity to meet with the Afghan evacuees and learn first hand of their needs, and to learn from the top leaders at Fort McCoy regarding the processes in place. The MMWC has been overwhelmed by the generosity and good will of our fellow Wisconsinites!
If you'd like to make and additional donation, you can do so here.
Jewish Social Services (Madison)
Jewish Social Services of Madison empowers families and individuals across generations and cultures to build community and self-sufficiency, with a strong commitment to the Jewish community and inspired by Jewish values. It is a non-profit organization working to help Dane County residents get their basic needs met. They offer services in the areas of short-term advocacy, long-term case management, and immigration legal services, serving people of all backgrounds.
JSS is awaiting information on their role in helping Afghan refugees in Madison. They have done extensive work with refugees in the past and are grateful for any support as they learn how they will be helping. The funds raised from this production will be earmarked specifically for the people arriving in Madson from Afghanistan.
If you'd like to make an additional donation, you can do so here.
PERFORMER BIOS
Jamie England most recently appeared onstage as Judy in Madison Theatre Guild's 2019 production of Small Mouth Sounds. Other recent acting credits include turns as Joyce in Body Awareness, Mattie Fae in August: Osage County, Nightshade LaVixen in Sweet William, Linda Loman in Death of a Salesman, JoAnn in Company, and the unsinkable Narrator in You've Ruined a Perfectly Good Mystery at the New York City Fringe Festival. Local directing credits include Epic Proportions, The Miracle Worker, Fiddler on the Roof, and The Rainmaker.
Casem AbuLughod regularly performs with the Monkey Business Institute, Are We Delicious?, and Whoopensocker. He is honored to be treading the virtual boards of The Voices Theatre. Sending love and thanks to his LifeBoo and you the audience for being awesome.
Karen Estrada is an actor, director and theater educator living in Milwaukee and has had the pleasure of working with Chamber Theater, First Stage, Next Act, Renaissance Theaterworks, Skylight Music Theatre, Milwaukee Opera Theatre and is a three time alumna of the Disney on Classic tour of Japan and Taiwan. Karen is also proud to have directed pieces for Renaissance's Brinks Briefs, Chamber Theater's Young Playwright Festival, First Stage Milwaukee's World Premiere On the Wings of a Mariposa and for Marquette University.
Adam Qutaishat is a multiracial actor, director, designer, teacher, writer, composer, and advocate working throughout the Midwest. Area highlights include work with Next Act Theatre, Skylight Music Theatre, Milwaukee Opera Theatre, Milwaukee Chamber Theatre, Renaissance Theaterworks, Playwrights' Center, National Theatre for Children, All In Productions, Windfall Theatre, American Gothic Performing Arts Fest, and Music Theatre of Madison. 
Adam serves as Associate Artistic Director for Music Theatre of Madison and as an Artistic Associate for All In Productions. Adam also does extensive work on audio fiction podcasts and can be heard on the upcoming Dracula (The House Theatre of Chicago), The Wanderer (Fable and Folly Network), and Vigil (All In Productions). For more of Adam's past and future work, check out adamqutaishat.com.
For more of Adam's past and future work, check out adamqutaishat.com.