All In Productions was founded with the mission of providing affordable productions of, primarily, lesser known contemporary works for Milwaukee area audiences and creating paying opportunities for local and homegrown artists in order to enrich our city and performing arts community.
Ticket sales only account for half of of our annual budget. Since our founding, the generosity of our donors has made it possible for us to produce twelve full length shows, provide hundreds of paying opportunities for area artists, and launch a podcast that debuts new short works each month that have been enjoyed by thousands.
Your donation will keep this momentum going, let us branch out into new and exciting theatrical ventures, and help us continue to enrich the Milwaukee theatre community.
You can also fill out a donation form and mail it to us!
Questions about supporting AIP? Are you a corporation or business looking to form a partnership?
Please email allin.mke@gmail.com and we'll be glad to talk with you!
_________________________________________
Thank you to our 2019 corporate supporters!
Our endless gratitude goes out to the individuals and businesses who are helping to make our fourth season possible. Thank you for supporting All In Productions and local art.
Corporate Sponsors (Bronze)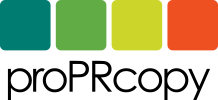 ProPRcopy
ProPRcopy develops high-quality blogs, website copy, articles, press releases and other written content for business owners of all industries.
https://www.proprcopy.com


Reed Street Insurance Agency
Reed Street is an independent Milwaukee insurance agency with a customer-first philosophy that ensures that they only work with your best interest in mind.
https://www.reedstreetins.com/