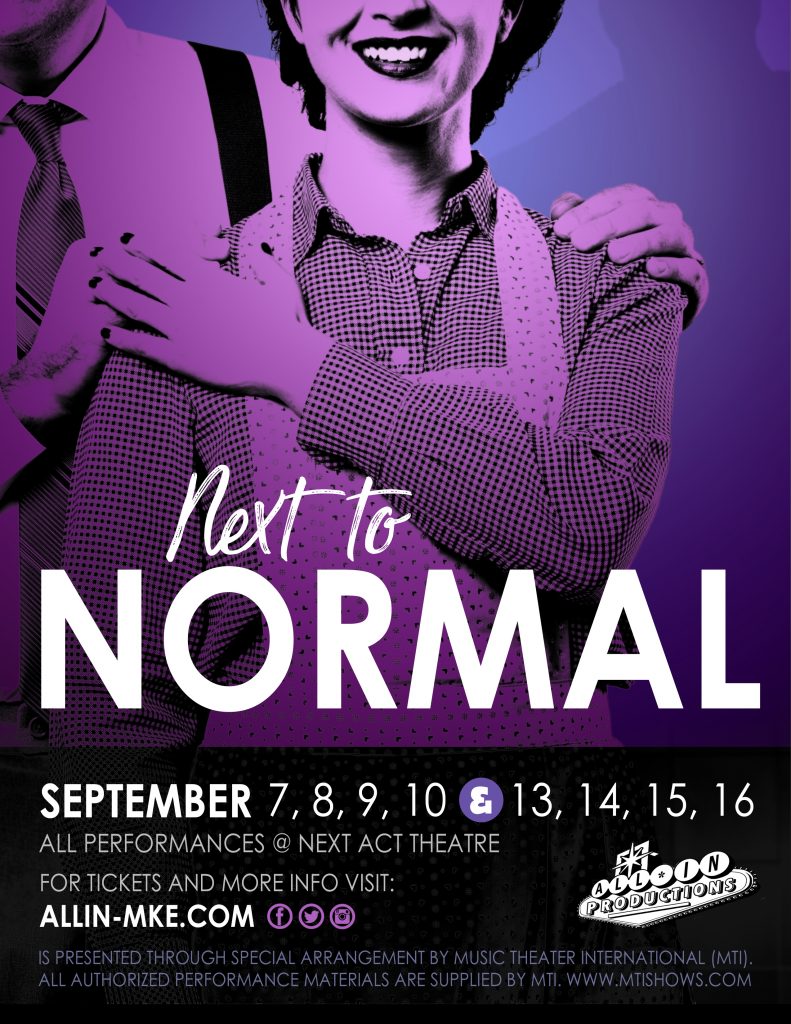 All In Productions is pleased to announce
its next show, NEXT TO NORMAL, running at Next Act Theatre from September 7 to 16. The show is being directed by Tim Backes and music directed by Julie Johnson.
"Dad's an architect; Mom rushes to pack lunches and pour cereal; their daughter and son are bright, wise-cracking teens, appearing to be a typical American family. And yet their lives are anything but normal because the mother has been battling manic depression for 16 years. Next to Normal takes audiences into the minds and hearts of each character, presenting their family's story with love, sympathy and heart." – MTI description.
CAST
DIANA – Carrie Gray
DAN – Steve Pfisterer
NATALIE – Hailey Hentz
GABE – Austin Dorman
HENRY – Connor Dalzin
DOCTOR FINE/DOCTOR MADDEN – Adam Qutaishat
The full production team is as follows:
Director: Tim Backes
Music Director: Julie Johnson
Stage Manager: Kathy Staats
Set Design: Mitch Weindorf
Sound Design: Deidre Buckles
Lighting Design: Mike Van Dreser
Costume Design: Christy Siebers
Master Carpenter: Tom Backes
Dramaturg: Nancy Backes
Production Manager/Assistant Director: Robby McGhee
Graphic Design: Brian Bzdawka