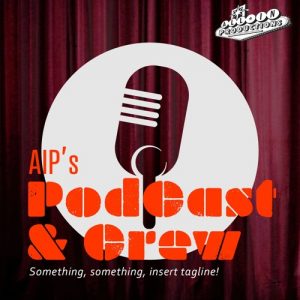 All In Productions is pleased to introduce our new podcast, "Podcast & Crew." The idea was conceived by Adam Qutaishat, who has worked with All In Productions in past shows in a variety of capacities, to develop a podcast produced by AIP that would celebrate local theater and artists. Each edition features interviews with key figures in the Milwaukee theater community, as well as performances of songs, radio plays and other works by local artists and writers, featuring local actors and improvisers.
Podcast & Crew records on the final Sunday of each month, and we love having live guests. Keep an eye out on our Facebook for times and locations of each recording so you can enjoy the fun live!
See below for full episodes of Podcast & Crew.
Episode 8: Quiet in the Wings (September 17, 2018)
Episode 7: No Ad Libs (September 3, 2018)
Episode 6: Stay in Character (August 20, 2018)

Episode 5: That's Not the Blocking You Were Given (August 6, 2018)

Episode 4: Don't Turn Your Back to the Audience (July 16, 2018)
Episode 3: You Can't Call for Line Any More (July 2, 2016)
Episode 2: Find Your Light (June 19th, 2018)
Episode 1: Your Bio is Late (June 5th, 2018)