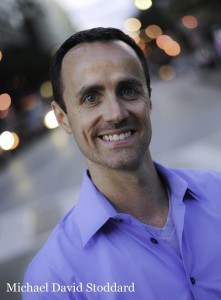 Michael Stoddard has developed a reputation in the MIlwaukee theater community for directing and acting in outstanding productions. With a highly successful tenure at Divine Savior Holy Angels high school, the development of DSHA's Community Theater Works program into a major summer event and recent acting credits as Leo Frank in Greendale Community Theater's Parade and All In Productions' The Last Five Years, Michael has a tendency to turn everything he touches into something special.
That's why we were thrilled when he came to us and volunteered to direct our fundraiser show. Under his direction, Best Half Foot Forward and Pillow Talk are sure to send audiences home with laughter-induced belly aches.
We asked Michael a few questions about the show. Here's what he had to say. And be sure to  get your tickets today and come laugh with us! It's a two-night-only show, so don't miss it!
______
Q: You came to AIP and pitched the idea of putting on these two one-acts. What made you choose them?
When I was 21 years old I had the privilege of performing in both these shows by Peter Tolan.  Fifteen years later they are still one of the funniest experiences I have had on stage.    Peter Tolan is a genius at writing and capturing the realistic banter of men as they interact behind closed doors.   The situations may be heightened, but the awkward male ego is captured by Tolan in a perfectly hilarious way.   I can still hear the audience's laughter filling the small theatre we performed them in.  I knew it would be a hit for AIP and I am delighted to direct them. 
Q: The theme for the evening, "Manhood," was also your idea. What do you think these shows tell us about manhood and the way we perceive it?  
The tile Manhood jumped out at me because of its clear double meaning.   "Manhood" is a slang term often heard when a man is talking about his own "area", but also refers to the unspoken competition men face in our society.  Like wild animals, men fight for dominance to see who's king of the pack and in some cases, "whose manhood is bigger than whose."  
BEST HALF FOOT FORWARD, deals with four men who are stir crazy at the end of a week's vacation in a secluded cabin.  The audience gets an exciting glimpse into their insecurities of friendship and masculinity which drive the men into outrageous acts of competition which culminates in one of the funniest moments I have seen on stage.  PILLOW TALK, deals with two heterosexual men, Aaron and Doug, who are traveling across country and are forced to share a small bed in a tiny bedroom of Aaron's grandmother's mobile home.   Fueled by Doug's insanely phobic fear of physical intimacy to share a bed, the characters are forced to examine their feelings about friendship and each other.   
Q: These shows don't have a whole lot in terms of set or props to set up the shtick — they take place in confined spaces, and the laughs are mostly in the script and the actors' delivery. What kind of challenges/opportunities does that give to a director/actor?
That is another reason I love these plays so much.   They really showcase the actors.  The plot lines are simple and the dialogue flows organically.  It is up to the actors to create believable characters routed in individual insecurity that culminates in hilarious moments of stage tension.     
Q: What do you think people are going to enjoy most about these shows?  
Burning calories laughing.  It's the AIP weight loss plan. Tolan writes a sneak peek into the neurosis and insecurities men face regarding their masculinity in such a believable way you have to laugh. Watching men behave this way is the reason women wonder whether male evolution is only a theory…
Secondly, the actors. The six gentlemen we have performing in both productions are some of Milwaukee's finest actors and comedians. Whether you are male or female, you will appreciate the ridiculousness of this show. 
Q: Give us your most ridiculous pitch for why people should come out to MANHOOD.
If you enjoy laughing then you should come.  If you like to be miserable…then stay home and make sure no one steals your garbage cans. Heterosexuals sharing tiny beds, drinking beers and comparing endowments.  Sounds like a party to me.   Grab a drink, support AIP and have fun with us.